This article about the best camping stoves is brought to you by Wild Zora. Their backpacking meals will taste great no matter which camping stove you choose.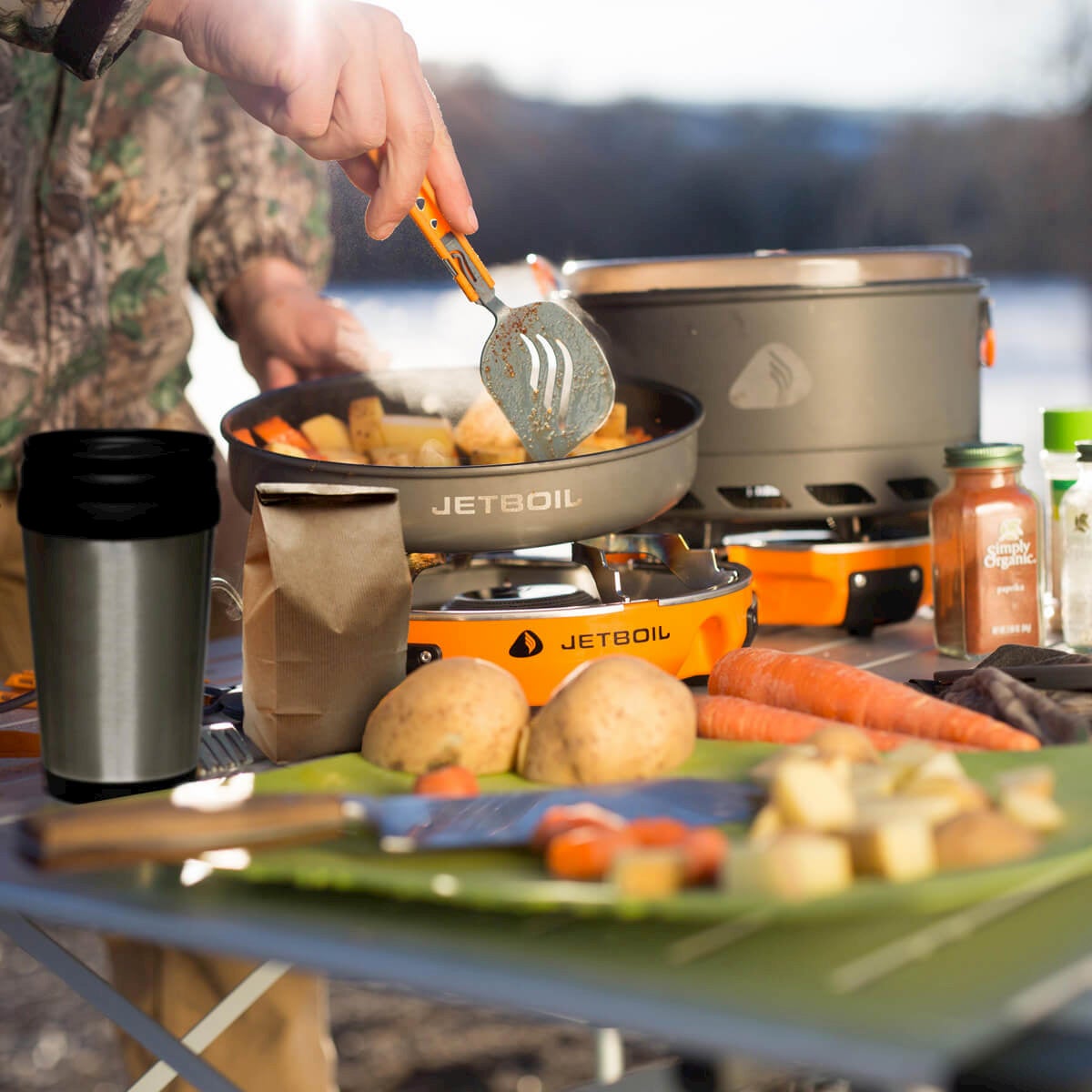 The Jetboil Genesis is a pricey beauty that checks all the boxes: it's lightweight, uses easy-to-find propane, and packs easily. Better yet, it has more cooking versatility than most other camp stoves. The reason? It has four levels of settings, which means this stove boils and simmers like a champ. As a bonus, the Genesis can easily be hooked up to other stoves, using a "daisy chain" feature. This allows users to set up a complete kitchen at your campsite.
The Genesis Base Camp stove costs $260. However, serious camp cooks can go take it to the next level with the complete Genesis Basecamp System—which includes a pot, frying pan, cover, propane hookup, windscreen, and a carrying case for $380.
This is a two-burner stove with options for expansion, which uses a traditional propane cylinder, and weighs in at 9 lbs 14.5 oz. Ultimately, The Genesis has very few cons, the main drawback is that it's expensive. But at least you get top-notch performance and quality for the extra cost.
With a Genesis, we recommend a meal that benefits from simmering. Wild Zora's Bedrock Beef Chili will simmer into a wonderful, spicy stew. Made with 100% grass-fed beef, this chili is gluten- & dairy-free (but adding fresh onions along with grated cheese is a great option). It falls into Wild Zora's "paleo-meal-to-go" category, so it's a great option for anyone trying to stick to a paleo diet or meal plan.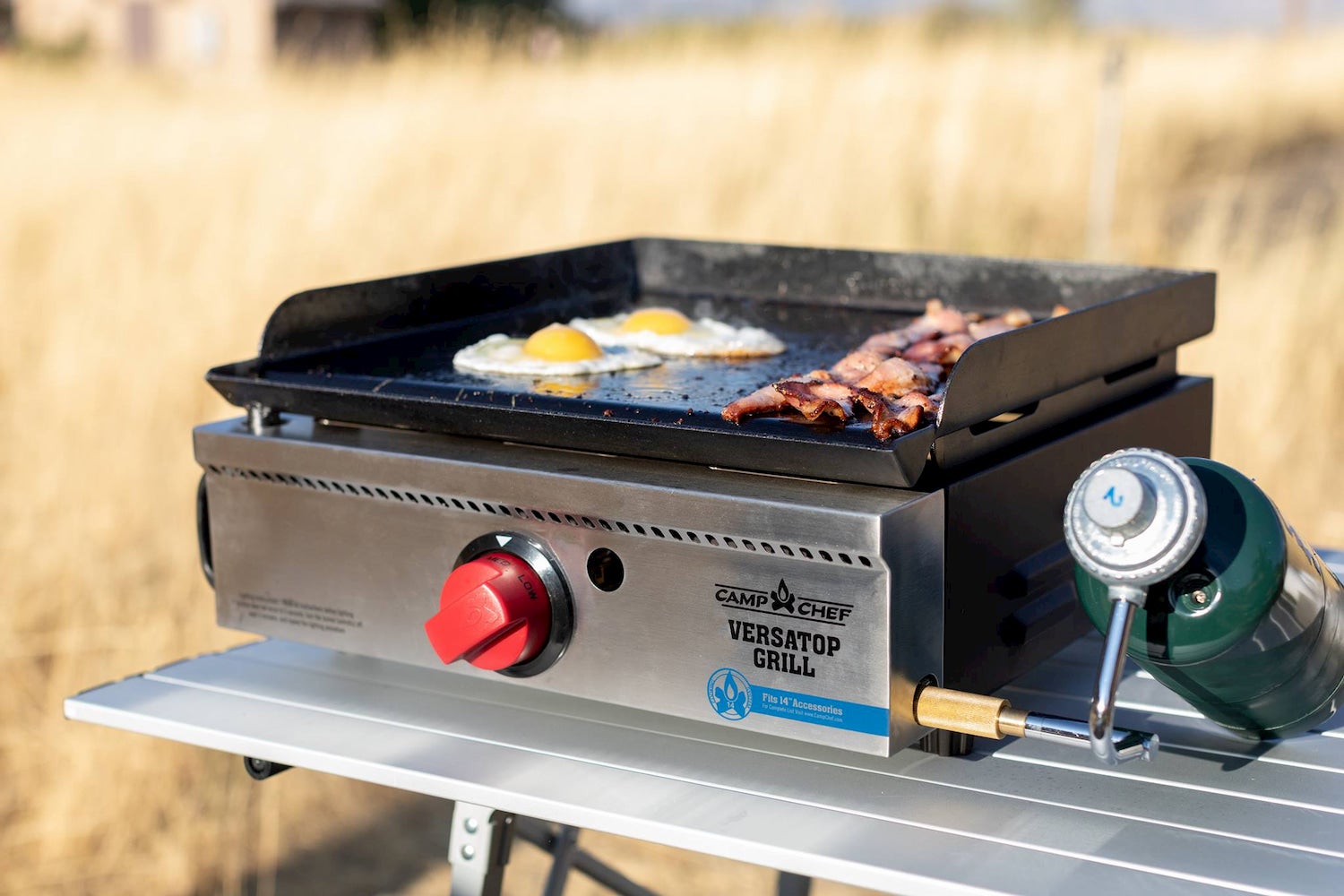 First thing's first, The Versatop is a griddle, not a typical stove. But don't be discouraged. You can cook a surprisingly wide variety of foods using this unique camping grill. It has a nonstick surface with 15,000-BTU's of power, fueled using regular propane. And believe it or not, the Versatop even allows for bread baking! It's larger size and increased versatility makes it an ideal option when cooking for larger groups.
When combined with even a small one-burner stove or Jetboil, the Versastop is undeniably one of the best camp cooking setups money can buy. Thanks to the non-stick surface, you're able to leave all extra pans at home. And with all that this thing can do, the price is actually quite reasonable at $150. Although, fair warning, the Versatop weighs in at 24 pounds so it's hardly the most travel-friendly option. It also takes a little extra time to heat up, due to its larger size. And one other important thing to remember—if you're cooking a meal that requires boiling water, you'll need to have a second stove available (a one-burner stove should do the trick).
If you've ever wanted to impress friends as a stir-fry magician, this grill will do the trick. Once it gets sizzling hot, it is perfect for stir-frying. A basic recipe will include meat or tofu, sliced zucchini, sliced onions, broccoli florets, and chopped ginger and garlic. Stir all of that up with some teriyaki sauce, sesame oil, and/or coconut aminos for a quick, healthy, and delicious meal. Another great option for this stove is fajitas, which require few ingredients: flour tortillas, a good mild, melting cheese, plus chopped onions & peppers are all you'll need.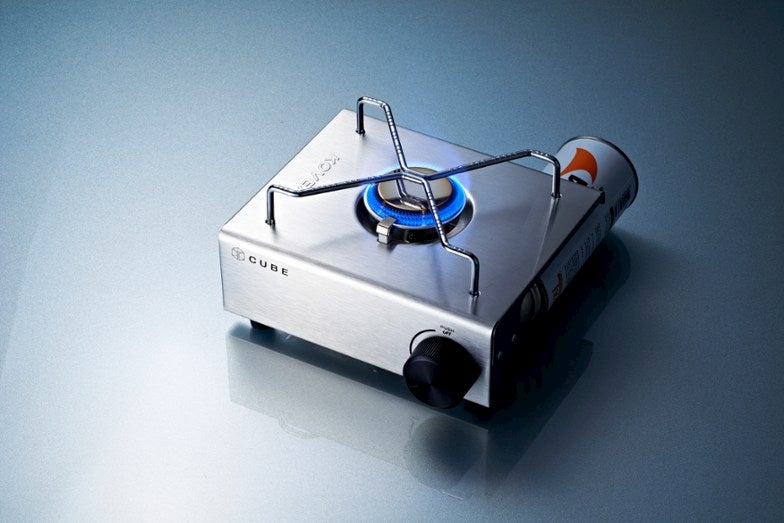 An elegant stainless steel one-burner stove that is stunningly lightweight—The Cube is a great deal at just $50. We think it's the nicest looking of all the stoves we've reviewed. Plus, it's the ideal option for one-pot camp meals like stews and soups.
The Cube is compact and weighs just 1 lb, 8 oz. Its exact dimensions are listed by the manufacturer as 223 x 195 x 105 mm, which translates into about one square foot. This little stove uses a butane, nozzle type gas canister.
The Kovea has a few annoying issues. First, the carry bag is sold separately, and honestly you will probably want one (although you don't technically need one). The Cube also has zero wind protection, so you'll either need to buy a separate windscreen, or you'll need to get creative and rig one up yourself. Lastly, the Kovea uses butane canisters, which aren't as widely available as propane.
If you decide to buy a Kovea Cube, which is great for soups and stews, we highly recommend trying out some of Wild Zora's delicious soups. Our two favorite flavors are, first, the Mushroom Beef with champignon mushrooms, turmeric, and pumpkin (gluten- and sugar-free, plus AIP compliant). And secondly, the Tuscan chicken with spinach, sweet potato and tomato (also gluten- and sugar-free).
The Snow Peak Home & Camp Burner is an attractive one-burner stove with a unique and sophisticated design. And yet it is also lightweight and tough enough to be thrown into a backpack or used for car camping. At $110 it is a bit more pricey than your average one-burner stove, but this isn't an average one-burner, we think it's one of the best compact camping stoves on the market.
This Snow Peak stove is powered by a slide-in butane gas canister. The whole stove isn't much larger than a one-liter bottle once it's been folded up, (dimensions: 13.6 x 11.8 x 4.7 inches) plus it weighs in at just 3lbs. The stove also has a cool auto-ignition feature, which makes the setup even quicker and easier. And unlike some other gas stoves, the temperature control on the Snow Peak is excellent and reliable.
This is another stove with very few cons—the main one being that it is a little expensive for a one-burner. And, of course, it has all the usual limitations of a small one-burner stove. It also does not come with a carrying case, which isn't a deal breaker for us. Other reviewers have noted that it can be a bit more difficult to level this stove, compared to its competitors, but that's something we're sure you'd get used to after the first few uses.
Check out the Taco Skillet and a few other savory suggestions for more complicated camp chef wizardry. Don't love slaving over a hot camp stove? Then, once again, we suggest going for a Wild Zora soup like savory beef with beets, cabbage, and carrots in vinegar wine (yes, it's gluten-free and grain-free).
This article about the best camping stoves was brought to you by Wild Zora.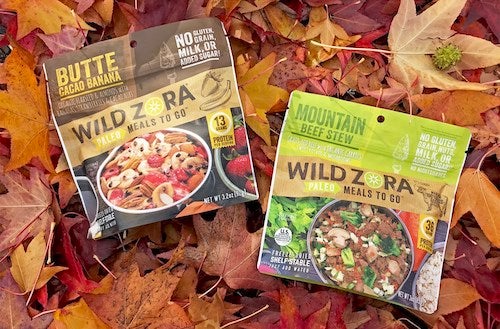 The post The Best Camping Stoves of 2020 — Plus Meal Ideas to Try Out appeared first on The Dyrt Magazine.