This article about Yosemite yurts is brought to you by GCI Outdoor. No matter where you camp, GCI's camping chairs & outdoor rocking chair are there to keep you comfortable.
Originating in the Mongolian Steppes in Central Asia by nomadic groups, these round, tent-like structures were traditionally covered with animal skins. Yurts were perfect for these nomadic peoples because they are easily dismantled and carried to the next homesite. Modern yurts, albeit more stationary, have been catching on across the U.S. for years and are a great option for those who want to camp and be close to nature, yet don't want to sacrifice a cozy bed and other creature comforts.
Modern yurts are often permanently built on wooden platforms and covered in canvas with wooden or metal framing. At its simplest, yurts include beds and a wood burning stove, but deluxe models often include a private bathroom, kitchen, and dining area. Yosemite yurts provide a unique and fun camping experience, without the inconveniences of setting up a tent and sleeping on the cold hard ground. Yosemite yurts tend to sleep four to six people (often including dogs) so they're a good option for families and small groups.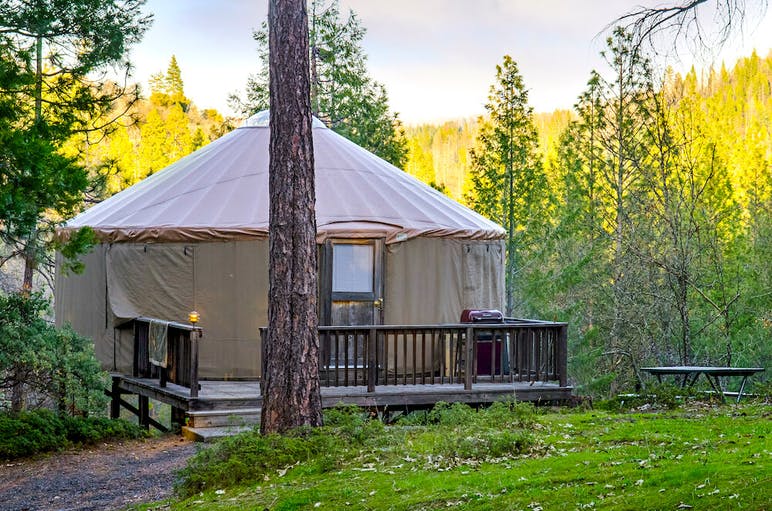 Just six miles from the Big Oak Flat Entrance, Yosemite Lakes RV Resort offers the closest Yosemite yurts to the park. Yurts sleep four to six people and pets are welcome in select yurts. Each yurt has a private bathroom with a shower and kitchen stocked with all the essentials, including a refrigerator, microwave, toaster, coffee maker, and two-burner stove. Yurts are also equipped with a satellite TV, a gas stove for heating, and a swamp cooler for air conditioning. Outside, you'll find a picnic table, fire rings, and the riverside yurts feature a porch with a gas grill.
Yosemite Lakes also has over 200 RV sites with full hook-ups, tent sites, and a variety of cabin and budget bunkhouse rental options. The resort offers all sorts of fun activities including miniature golf, horseshoes, volleyball, tennis, and pool tables. Other resort amenities include a swimming pool, laundry facilities, a clubhouse, a camp store, and nature trails. The South Fork of the Tuolumne River runs right behind the resort and provides fishing access. For an additional fee, shuttle service is provided from Yosemite Lakes RV Resort into Yosemite National Park.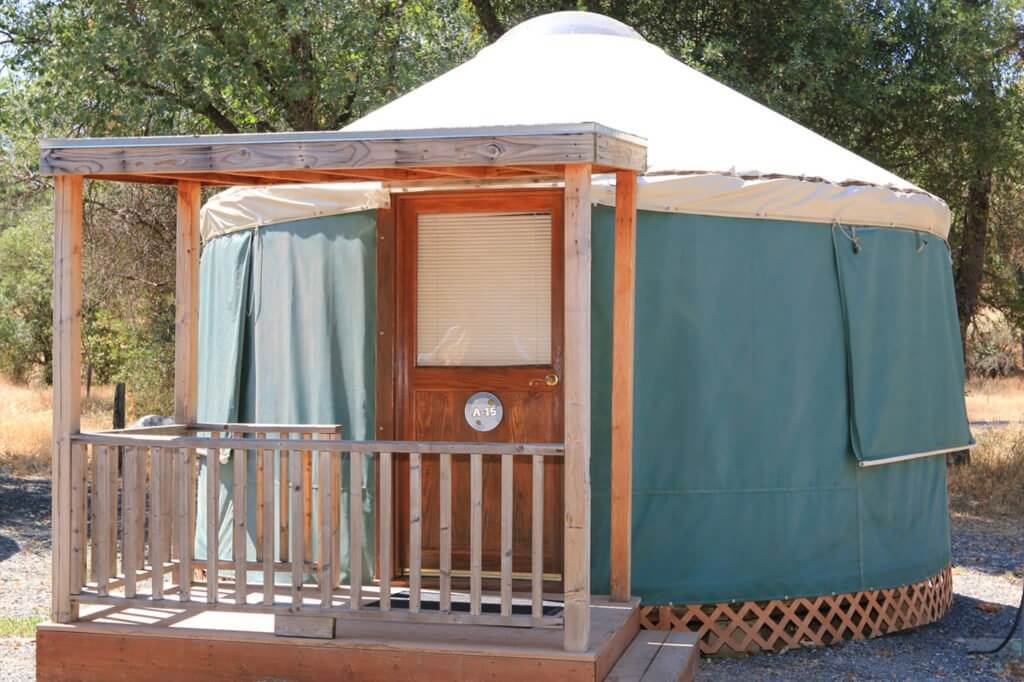 Located in Groveland, California, just 20 miles outside the western entrance to Yosemite National Park, the Yosemite Pines RV Resort offers yurt rentals in addition to cabin rentals, glamping wagons, retro trailers, RV sites, and tent campsites. Yurts sleep up to five people and come equipped with a refrigerator, microwave, coffee pot, and bed linens. Restrooms and showers are nearby, and other resort amenities include a swimming pool, laundry facilities, playground area, petting farm, sand volleyball court, and BBQ area.
Yosemite Pines is open year-round and rates vary by season. Some amenities, including the swimming pool, are only open from Memorial Day through Labor Day. Special deals on long-term rentals are available and pets are welcome in yurts, but an additional fee is required. A three-day minimum stay is required in yurts over select holiday weekends.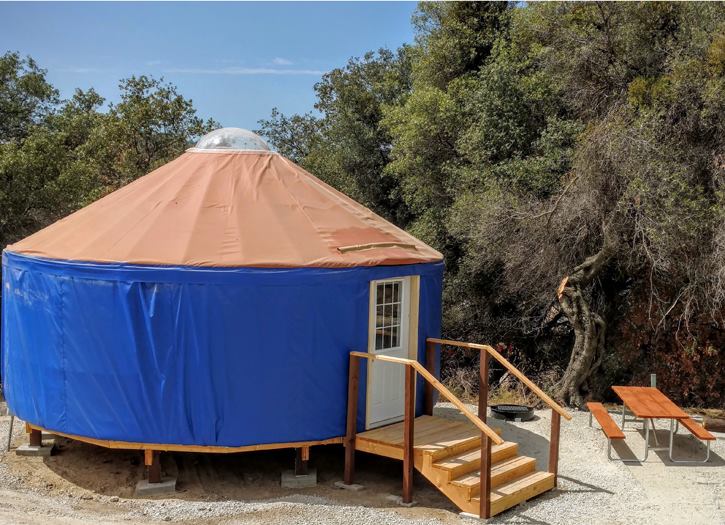 Just 25 miles from the south entrance of Yosemite National park, Yosemite RV Resort is a family-friendly resort with yurts, cabin rentals, RV sites, and tent spots. Yurts sleep five people and are on the simpler side, only featuring beds, a table, and sitting areas. Outside each yurt you'll find a patio, fire ring, and picnic table. Linens are included and pets are allowed in select yurts. Bathrooms with hot showers are just a short walk away and amenities include free Wi-Fi throughout the resort, a swimming pool, a playground, and a camp store. Yosemite RV Resort is also a great basecamp for exploring the Sierra National Forest just south of the national park.
Backcountry Yurts in the Eastern Sierra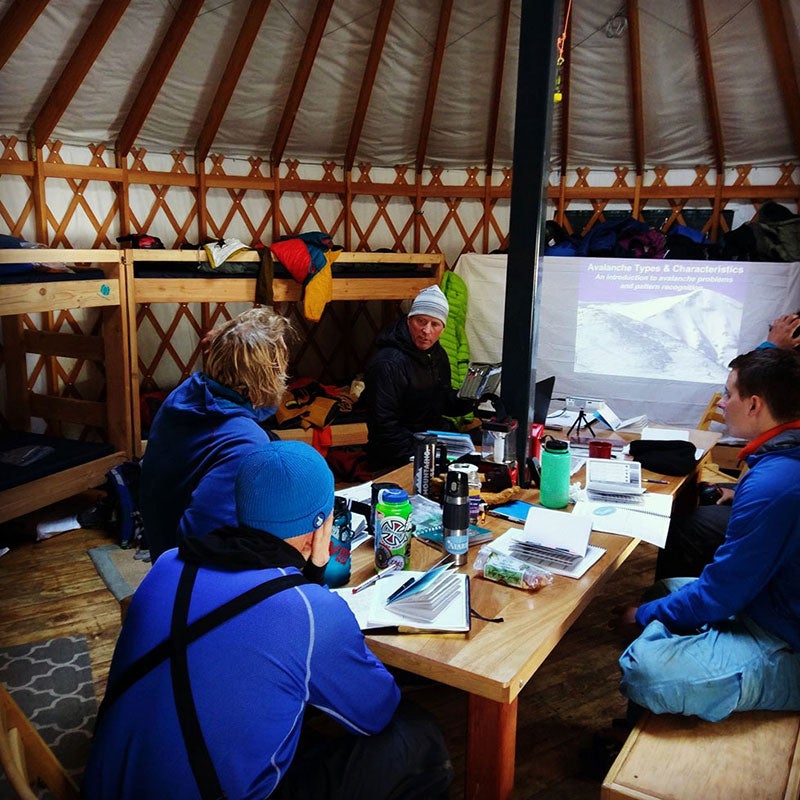 Image from High Sierra Snowcat
For a memorable backcountry yurt camping experience near Yosemite National Park, High Sierra Snowcat offers guided skiing and snowboarding backcountry trips with overnight yurt accommodations throughout the winter months. The Virginia Lakes Yurt is located about five miles from Highway 395, not too far from Yosemite's eastern entrance. The yurt is equipped with a toilet system, a pellet fuel stove, solar power, bunk beds, a family-style table, and a fully stocked kitchen.
Trips are catered to the experience of the group and guests are shuttled to the yurt with a snowcat. Guiding, snowcat transportation, yurt accommodations, and all meals are included in the price of the trip.
This article about Yosemite yurts was brought to you by GCI Outdoor.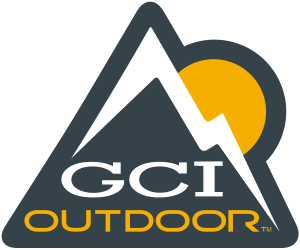 For your next camping trip, be sure to bring along their famous rocking camp chair.
The post Your Guide to Booking Yurts Near Yosemite National Park appeared first on The Dyrt Magazine.