This article about camping near Portland, Maine is brought to you by Tentrr. They have more than 70 campsites in Maine to choose from, including 50+ luxurious glamping style sites that Tentrr is famous for.
Maine is a state like no other. With deserts, ocean vistas, and countless miles of craggy shoreline, camping near Portland, Maine is a truly special experience. These seven campgrounds run the gamut—from backcountry camping to expansive campgrounds that are chock full of amenities. So, no matter what type of camping you prefer, you're sure to have plenty of options in The Pine Tree State. And hey, you might even see a moose!
Images from The Dyrt camper Darin S.
Lauded as one of the most family-friendly campgrounds in the area, Wolfe's Neck offers camping or glamping, a farm animal petting zoo (on its working farm), and an on-site store serving fresh flatbread. And perhaps best of all, it's located just 20 minutes from Portland.
Wolfe's Neck is split up between East, Middle, and West Bay camping areas. Whether you're camping in a tent or an RV will determine which area you'll land in. But don't worry, no matter where you end up, you'll still be surrounded by either forests, farmlands, or the ocean. Plus, the water is within walking distance.
"This campground is the best of many worlds: Ocean, woods store, cafe, farm, activities, you name it. Everything was easy, including check-in, and the campsites are a perfect distance away from each other."– Wendy M.
Campground Details:
Price: $25-100
Number of sites: 115
RV sites: Yes
Fires allowed: Yes
Pets allowed: Yes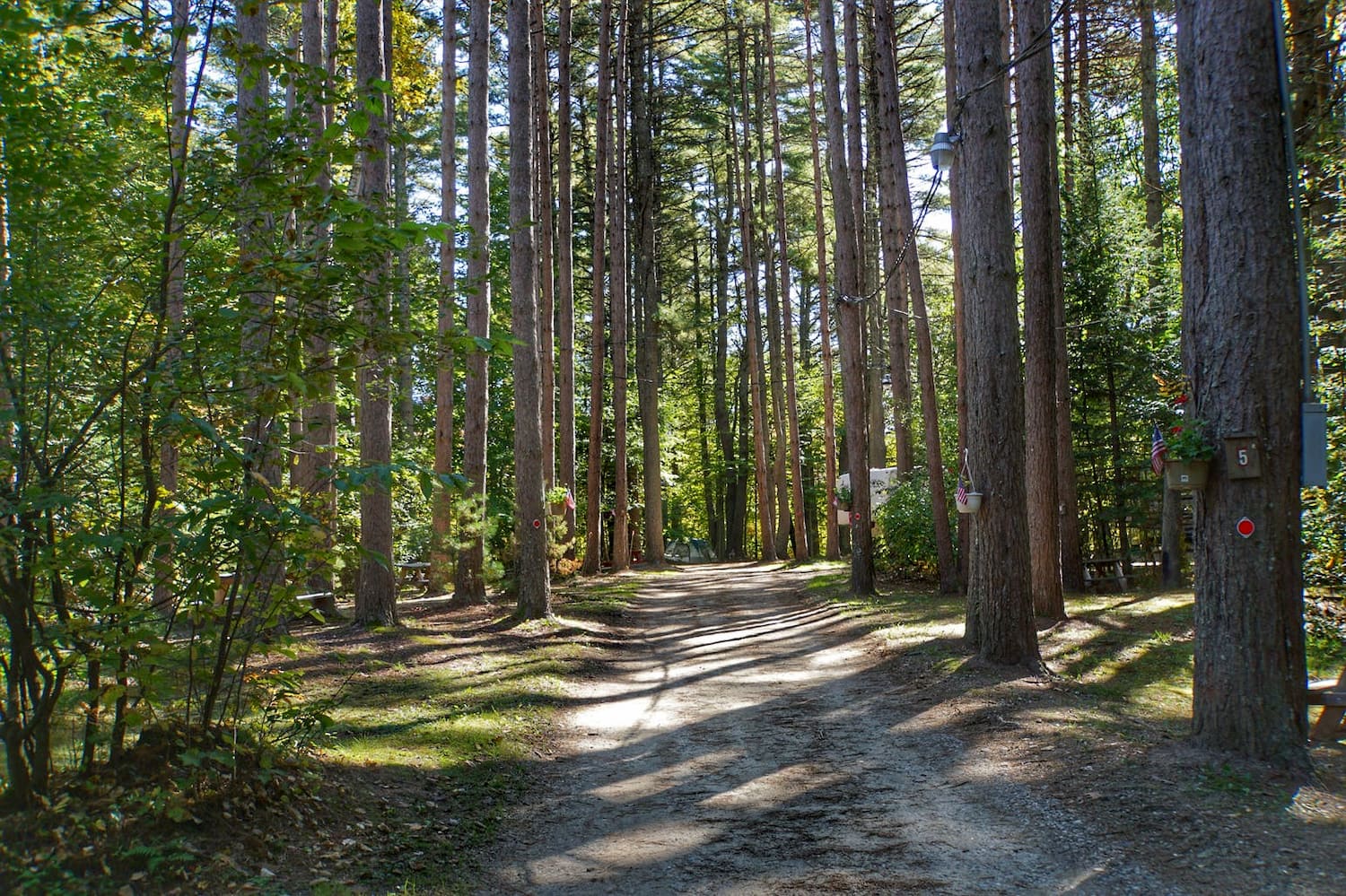 Image From The Dyrt Camper Ross C.
With brand new bathrooms and amazing views of rocky shorelines, the Desert of Maine Campground is like a compilation of all the great things that Maine has to offer. All while being only a 20-minute drive from Portland.
If you're in Portland or Freeport for the breweries, Bradbury Mountain State Park, or Freeport, this is a highly convenient campground. Visit the dunes, the barn, the forest, or bring your kids to the one-of-a-kind playground. And the campground's modest size makes it feel secluded and private.
"What a lovely campground! We were tucked back into T8, which is a walk down campsite under the trees near a small stream. The benefits were not only a little bit of privacy, but also close access to the bathrooms and showers."– Maggie K.
Campground Details:
Price: $21-40
Number of sites: 23
RV sites: Yes
Fires allowed: Yes
Pets allowed: Yes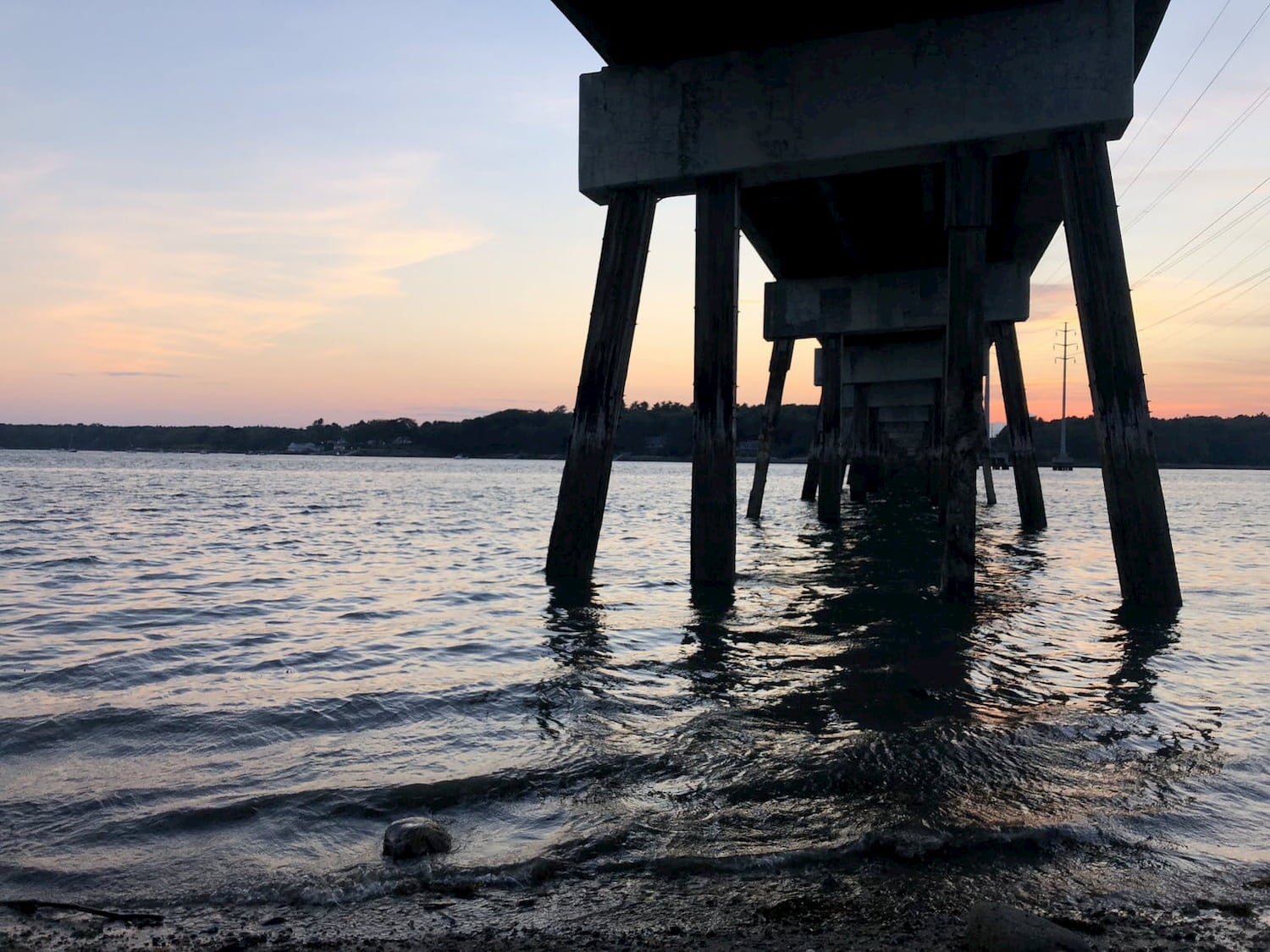 Image from The Dyrt camper Laura L.
Looking out over Casco Bay, Winslow Park and Campground actually lies within a public park. The campground includes a boat launch, a pier for fishing, and lots of benches from which to sit back and admire the ocean. It's a well-maintained campground with tons of amenities for the whole family. Freeport and Portland are close by too, in case you want a more modern diversion.
"Sweet little park with lovely, open sites and views of the water. More of a neighborly experience than a wilderness outing, but a perfect getaway."– Jeana W.
Campground Details
Price: $14-35
Number of sites: 100
RV sites: Yes
Fires allowed: Yes
Pets allowed: Yes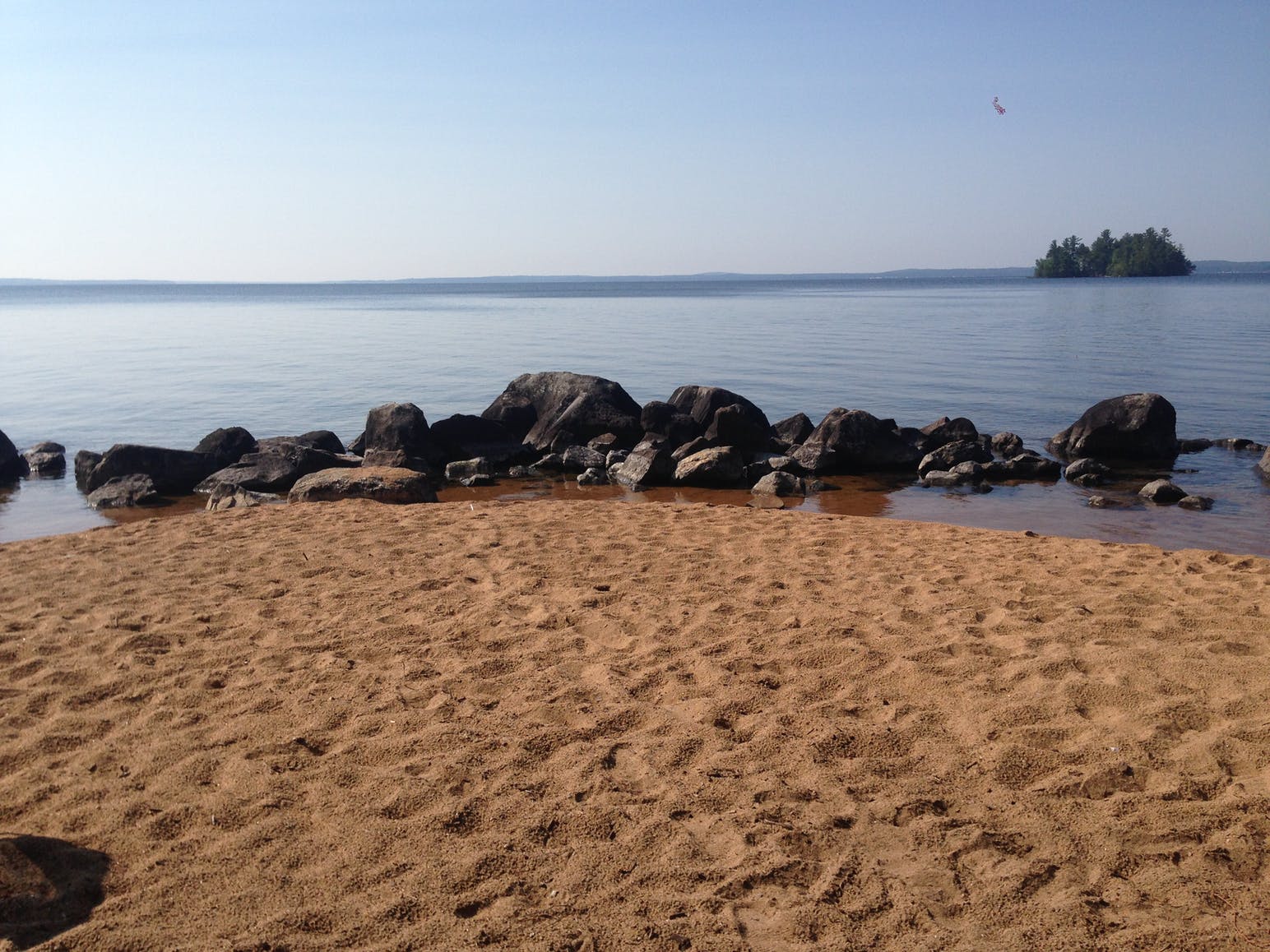 Image from The Dyrt camper Debbi B.
Although very chilly, winter visits to Sebago Lake can be as breathtaking as time spent here during the summer. While it lies only 29.8 miles from Portland, the trip is a unique experience which includes the use of ferries and waterways.
This campground gives you access to excellent day trips such as Frye Island and Blueberry Island. Sebago Lake is glacial, so it's icy to swim in, and covers 45 square miles. Large wooded sites and full bathrooms with showers add comfort to the natural beauty of this spot.
"We thoroughly enjoyed this campground with our grandchildren! So much for them to do. The beach and like was really nice too. Very friendly and helpful staff." – Patricia H.
Campground Details:
Price: $41-70
Number of sites: 250
RV sites: Yes
Fires allowed: Yes
Pets allowed: Yes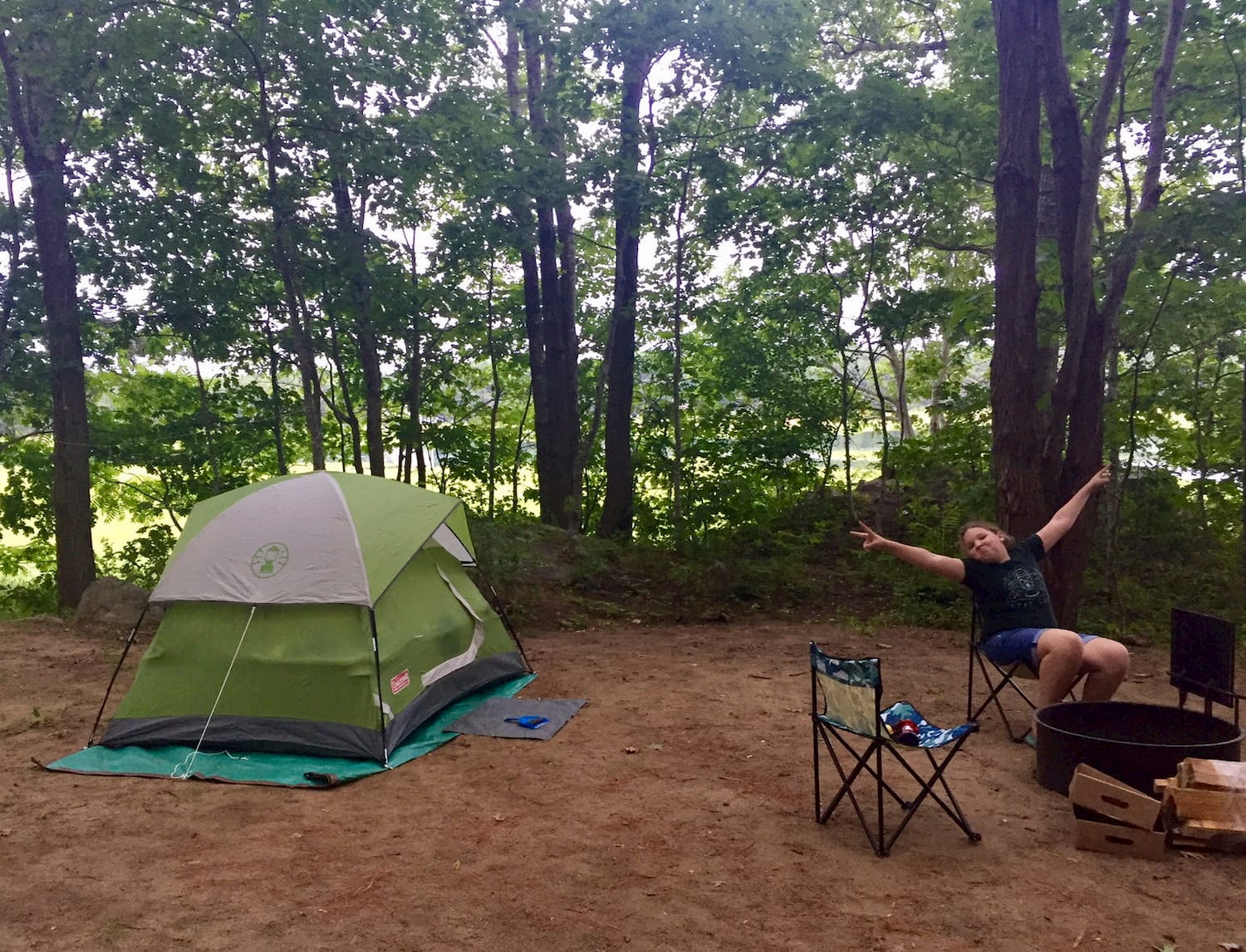 Images from The Dyrt camper Michelle .
Set in salt marshes, amid stands of beech trees, Sandy Pines is aptly named. Close to Maine's Kennebunkport area and only 28 miles from Portland, Sandy Pines Campground has both sand and pines. It's a large campground with a slew of amenities, so you have all the comforts of home, but with the unmistakable romance of the Maine coastline in the air.
"So many choices of cabins or glamping tents to rent. Dogs are welcome. Big-rig friendly. Very close to attractions and restaurants and stores. We will be back next year with friends."– Celeste C.
Campground Details
Price: $41-70
Number of sites: 300+
RV sites: Yes
Fires allowed: Yes
Pets allowed: Yes
Images from The Dyrt camper Rachel P.
This place has it all. A perennial favorite for many Maine campers, Saco/Old Orchard Beach KOA has tent sites, cabins, and plenty of spots for RVs—including both pull-through and back-in sites. Only 17 miles from downtown Portland, enjoy the pines, sea breezes, and blooming flowers at this delightful campground. There is an on-site restaurant as well as a truly impressive list of amenities.
"The staff was friendly, the bathrooms and grounds were very clean, activities were fun, the playground/pool was nice and the Maine blueberry pancakes were amazing! There was a trolley to the beach but lots to do at the campground, too."– Erin M.
Campground Details:
Price: $41-70
Number of sites: 197
RV sites: Yes
Fires allowed: Yes
Pets allowed: Yes
Images from The Dyrt camper Lori M.
Set amid 150 acres on the shores of Lake Androscoggin, sits Beaver Brook Campground in Central Maine, just one hour from Portland. Laundry services, four comfort stations with hot showers, and other on-site amenities make this rustic camping experience a fantastic way to explore Maine's interior.
The sites are dirt, and most RV sites are back-in, not pull-through. Showers cost a quarter to run, and the Safari Area is for tents only.
"Amazing campground. Has a lot of stuff for kids, including playground, pool, water slides, canoeing, kayaking, mini-golf, and disc golf."– Peter F.
Campground Details:
Price: $39-61
Number of sites: 205
RV sites: Yes
Fires allowed: Yes
Pets allowed: Yes
Camping in Maine near Portland is an unforgettable experience, whether you're right on the Atlantic or farther inland. These campgrounds only scratch the surface of what Portland and Maine as a whole have to offer. For more than 300 additional campground options, check out the Dyrt's full list of the best camping near Portland, Maine.
This article was brought to you by Tentrr.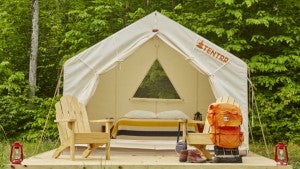 FYI — Tentrr even has a handful of dedicated glamping sites within Maine State Parks!
The post 7 Picturesque Campgrounds Near Portland, Maine appeared first on The Dyrt Magazine.