With critical wildfire outbreaks all along the west coast from Southern California to Washington, we wanted to remind our camping community of the dangers of wildfires and provide you resources to stay safe.
Where are the Fires?: Photo From September 11 Map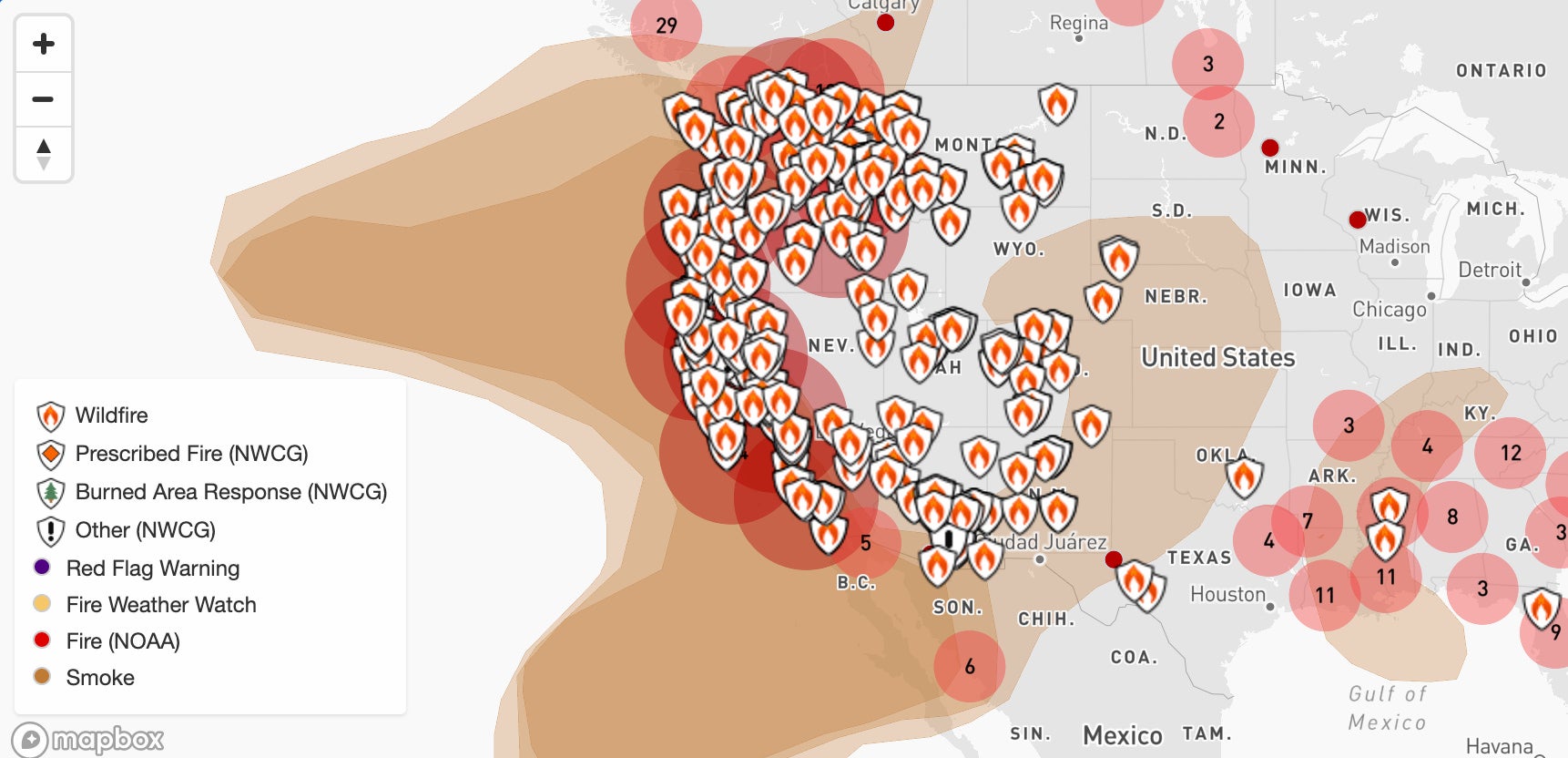 Image from data.statesmanjournal.com
Virtual Maps to Track Wildfires
How Do I Know if I Should Evacuate:
To learn more about fires in your area and preparations for evacuation, check in with your local government. You can find your county's evacuation plans and warnings through their website. Evacuation probability is measured in levels.
Level 1: You should prepare to evacuate.
Level 2: You should be packed and ready to leave. If you have a bug out bag now is the time to get them out. It is recommended to leave during level 2 of an evacuation if possible.
Level 3: It is time to evacuate. if you have the flexibility, it is recommended to leave before Level 3 as community panic can make it difficult to evacuate once level 3 is reached.
You can find local warnings through statewide management:
What is Closed?
California Wildfire Closures
At this time, California has closed all 18 National Forests due to wildfires.
Colorado Wildfire Closures
The state of Colorado has enacted a statewide ban on open fires from Aug 19 to September 19.
Oregon Wildfire Closures
Washington Wildfire Closures
The Washington Department of Natural Resources has closed all public lands East of The Cascades until September 17 at least.
Utah Wildfire Closures
In Utah, most counties remain in Stage 1 fire restrictions. Make sure to check the county you plan to camp in before embarking on your trip. Fireworks have been outlawed until December 31st throughout the entire state.
Davis, Morgan, Salt Lake, Tooele, and Utah Counties are currently restricting:
Setting, building, maintaining, attending or using open fires of any kind, except within the facilities designated for them in improved campgrounds, picnic areas or home sites where running water is present.
Smoking, except within an enclosed vehicle, trailer or building, a developed recreation site or while stopped in an area that is paved or free from dry vegetation.
Discharging or using any fireworks, tracer ammunition or other pyrotechnic devices including exploding targets.
Cutting, welding or grinding metal in areas of dry vegetation.
Operating a motorcycle, chainsaw, ATV, or other small internal combustion engine without an approved and working spark arrestor.
Should you go camping?
Even if the area you are planning to camp in is still open, this might not be an ideal time to go camping if you are within a state with wildfire outbreaks. A few reasons why it might be best to refrain from camping if you are in a high fire danger state:
85% of wildfires are caused by humans: Even if you don't plan to have a campfire, cook, or do anything with an open flame, there are still ways you can easily cause a fire with cigarettes, hunting, electricity, or even your car backfiring.
Emergency services are limited: If something happens and you need to call for aid, you may be taking aid services away from people caught in a wildfire.
Fire patterns can change quickly: This means that although you may be camping in a safe area if the winds change, a fire could change direction and move towards where you are camping.
Air Quality can be bad even if you are a safe distance from a wildfire: If the air quality index is above 50, individuals with respiratory issues can be in danger and if it is above 200 it is recommended to stay indoors.
Understanding Wildfires and the Increase in Natural Disasters
The post 2020 Wildfire Danger & Camping: What's Closed and How To Stay Safe appeared first on The Dyrt Magazine.